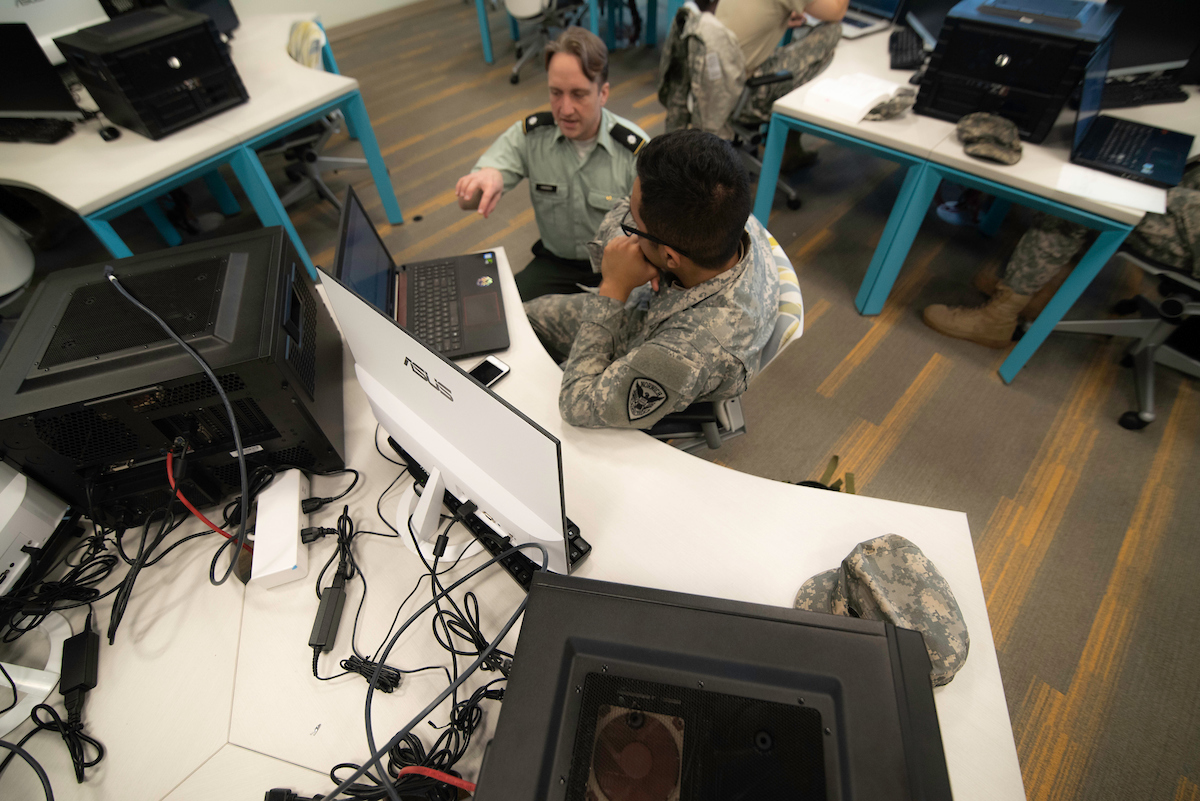 Norwich University has been awarded a two-year $1.6 million grant from the National Security Agency and is the lead institution in the Evidencing Competency Oversight Project, supporting the National Centers of Academic Excellence in Cybersecurity (NCAE-C) Program.
The project consists of three simultaneous efforts defining experiential education in higher education cyber programs.
First, the need for a cyber-educated and a cyber-exercised force exists across the military and civilian sectors, from entry-level through advanced tactical, strategic, and leadership levels. Norwich University will support the National Centers for Academic Excellence in Cybersecurity (NCAE-C) institutions and their missions by developing and facilitating 10 cybersecurity exercises, engaging students for skills competency development and measurement. The goal of these engagements is to strengthen understanding of cybersecurity policy issues, influence the future development of cyber response education, and build greater collaboration between the NCAE's.
The 10 cybersecurity exercises will enhance students' skills and abilities in risk resiliency by providing an opportunity to exercise on a broad range of threats while strengthening their knowledge about incident response plans and crisis communications.
The exercises will be conducted by Norwich University Applied Research Institutes (NUARI), utilizing its proprietary exercise environment, the Distributed Environment for Critical Infrastructure Decision-making Exercises (DECIDE®) platform.
DECIDE® is an interactive simulation exercise platform for decision-makers, improving coordinated response to cyber‐attacks, kinetic events, and other disasters of natural or human origin. DECIDE® uses immersive interactive simulations to stress operational decision-making in today's high‐threat cyberspace. DECIDE® provides participants with a simulated environment for all functional staff roles allowing them to practice decision‐making when dealing with cyber threats while demonstrating the analytical tools for students to see the potential impacts of those decisions. NUARI uses a simulation platform to animate the exercise event and expects participants to interact with each other in the distributed environment adding another layer of realism.
"Norwich was founded in 1819 under the principle of experiential education – learning by doing by our founder Alden Partridge," NUARI President Phil Susmann said. "Norwich's core principles are still pertinent today; technical education must be bolstered by experiential education – evidencing competencies to demonstrate knowledge and understanding."
Second, Norwich University operates the Security Situation Center (SSC) in cooperation with the State of Vermont Chief Information Officer (CIO) and Agency of Digital Services (ADS). The SSC monitors State of Vermont networks, conducts threat-hunting missions, and operates the State Information Sharing (SIS) activity. The activities that broaden Norwich's SSC past the traditional Security Operations Center (SOC) are the addition of threat hunting, information sharing, and development of actionable intelligence in the operation of the organizational information environment. It is staffed with professionals and student interns, extending the traditional classroom environment as a method to give students a hands-on, experiential education activity. Student interns work in an operational environment under professional conditions, are exposed to and expected to carry out their tasks with the same expectations as full-time professionals requiring them to master current cybersecurity tools and techniques.
The goal of the SSC activity is to create a comprehensive resource for NCAE-C institutions to replicate the Norwich model at their home institutions. Norwich is aware of several other institutions employing various partnerships to provide a live environment for student engagement. Norwich will broadly canvas the NCAE-C community and other education providers to collect exemplars of this educational model. The experience from all the programs contributes to a body of knowledge and understanding of how live environments can support a more robust educational model and better-prepared students.
Third: The Evidencing Competency Workgroup (with the draft definition of competency for this group being the ability for students to complete tasks in the context of a work role) has been in existence for two years and has grown to approximately 60 individuals, mostly from academia, but includes some government participants.
The workgroup is broken down into three subgroups, the first being responsible for Definitions and Documentation, which will define the framework, definitions, and terminology for evidencing competency in NCAE-C approved programs. The second subgroup, the Competency Development and Measurement Tools group, will explore cybersecurity skills assessment tools. The third subgroup, the Cybersecurity Competitions as Competency Development and/or Evaluation Tools group, will identify and explore student competitions that both provide the student with the development of measurable competencies and documentation of competencies developed during competitions. Over the next two years, the working group will follow a process to create and socialize a framework for evidencing competency that can be implemented throughout the NCAE-C program.
About NUARI
Norwich University Applied Research Institutes (NUARI) was federally chartered under legislation sponsored by Sen. Patrick Leahy in 2002 and is funded in part through the U.S. Department of Homeland Security and the U.S. Department of Defense. NUARI has a national center to address cyber incident management challenges through research, training programs, and technology development and has been a global leader for more than a decade in developing cyber war gaming, distributed learning technology, distributed simulation technology, critical infrastructure exercises, and cyber security curriculum.
Norwich University is a diversified academic institution that educates traditional-age students and adults in a Corps of Cadets and as civilians. Norwich offers a broad selection of traditional and distance-learning programs culminating in Baccalaureate and Graduate Degrees. Norwich University was founded in 1819 by Captain Alden Partridge of the U.S. Army and is the oldest private military college in the United States. Norwich is one of our nation's six senior military colleges and the birthplace of the Reserve Officers' Training Corps (ROTC). www.norwich.edu

Jakon Hays
Jakon is the Senior Marketing and Strategic Communications Specialist for Norwich University Applied Research Institutes (NUARI). He develops and executes digital and social media awareness initiatives promoting NUARI's mission of enabling a resilient society through rapid research, development, and education in cybersecurity, defense technologies, and information warfare.
More posts by Jakon Hays
Related Posts
The Department of Homeland Security has designated the energy sector as one of sixteen critical...
Latest News
The Department of Homeland Security has designated the energy sector as one of sixteen critical...