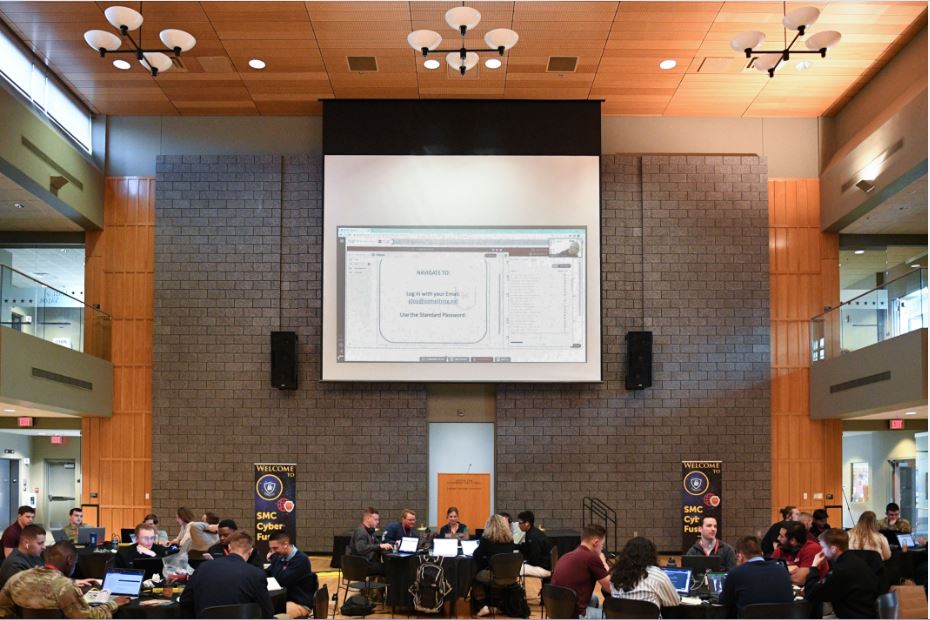 Students from the nation's six senior military colleges (SMCs) gathered at the Virginia Military Institute (VMI) on April 16-18 for the annual VMI-hosted SMC Cyber Fusion event. The gathering featured guest speakers, an expert panel, and networking opportunities. The attendees also had the chance to experience a real-world decision-based cybersecurity exercise utilizing the DECIDE® Platform, prepared and delivered by Norwich University Applied Research Institutes (NUARI).
Students experienced firsthand how DECIDE® simulates cyber-attacks for organizations stressing and testing incident response plans that resulted in after-action reports improving strategic communication, compliance, risk, and public relations.
Additionally, NUARI's DECIDE® Platform empowered the players, allowing them to conduct a collaborative, fully immersive, scenario-based exercise where the actions and decisions of players determined the storyline outcome. The activity was designed to increase understanding of the systemic ramifications of actions and decisions, improving organizational communication during high-stress events.
Students and faculty attending the event were from VMI, Norwich University, Texas A&M, The Citadel, the University of North Georgia, and Virginia Tech.
This cybersecurity immersion experience is the first in a series of DECIDE®supported events at the SMCs in the next two years as part of the DoD SMC Cyber Institute pilot program.
Additional information about this event can be found HERE.
Learn more about the DECIDE® Platform.
Photo caption – Students participating in a DECIDE exercise at the VMI-hosted SMC Cyber Fusion event VMI photo - Kelly Nye

Jakon Hays
Jakon is the Senior Marketing and Strategic Communications Specialist for Norwich University Applied Research Institutes (NUARI). He develops and executes digital and social media awareness initiatives promoting NUARI's mission of enabling a resilient society through rapid research, development, and education in cybersecurity, defense technologies, and information warfare.
More posts by Jakon Hays
Related Posts
The Department of Homeland Security has designated the energy sector as one of sixteen critical...
Latest News
On March 29, Lt. Gen. Robert Skinner, the director of the Defense Information Systems Agency, ...