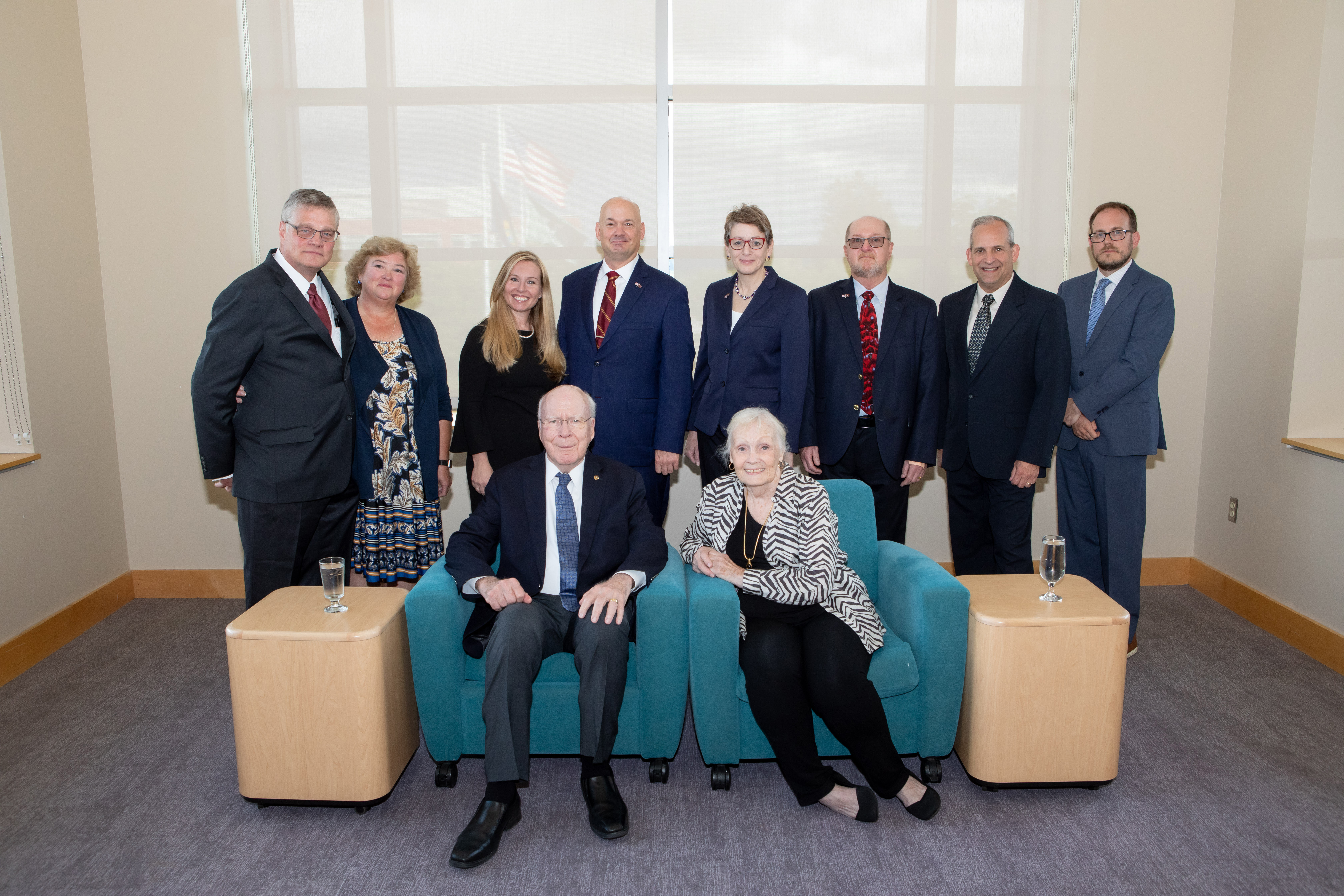 On June 8th, NUARI president Phil Susmann and NUARI's Vice President for Strategy Sherman Patrick joined Norwich University's President, Dr. Mark Anarumo, Norwich's Provost, Dr. Karen Gaines, and Michael Battig, the director of the Senator Patrick Leahy School of Cybersecurity and Advanced Computer at Norwich University at a Vermont Chamber of Commerce celebration honoring Senator Patrick Leahy. The event paid tribute to Senator Leahy and his wife Marcelle, who have had an incalculable impact on Vermont's businesses and communities, supporting innovation, research, higher education, transportation, and manufacturing, all while supporting the environment and communities unique to Vermont.
Senator Leahy, the pinnacle of leadership and public service, contributed significantly to the growth of the Vermont economy during his time in office. He led the charge for important laws promoting manufacturing, higher education, transportation, innovation, and conservation of Vermont's environment.
Mark Anarumo, President of Norwich University, Dr. Lorraine Sterritt, President of St. Michaels College, Ken McAvey, VP and GM of GlobalFoundries, and Senator Peter Welch all joined Vermont Chamber President Betsy Bishop on stage to reflect on Senator Leahy's distinguished career and accomplishments and lead the champagne toast.
More about the event can be found on the Vermont Chamber of Commerce website.

Jakon Hays
Jakon is the Senior Marketing and Strategic Communications Specialist for Norwich University Applied Research Institutes (NUARI). He develops and executes digital and social media awareness initiatives promoting NUARI's mission of enabling a resilient society through rapid research, development, and education in cybersecurity, defense technologies, and information warfare.
More posts by Jakon Hays
Related Posts
We want to congratulate Jack Skoda, Lt. Col., Vermont Air National Guard (VTANG), and NUARI's...
Latest News
We want to congratulate Jack Skoda, Lt. Col., Vermont Air National Guard (VTANG), and NUARI's...