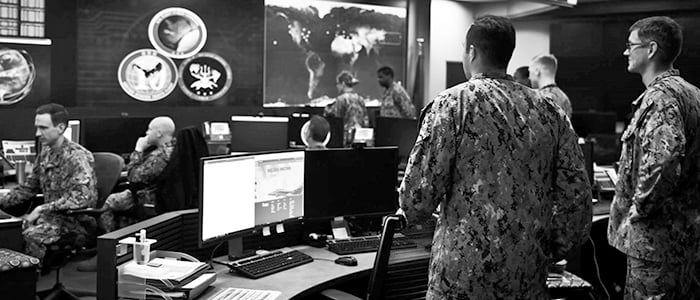 Earlier this month, NUARI president Phil Susmann announced several promotions.

Tom Muehleisen
Tom Muehleisen has been promoted to NUARI's Director of Exercises. Tom previously held the position of Director of Cyber Operations. In his three decades of professional experience, in and out of uniform, Tom has worked at just about every level within IT and Military Operations: from Systems Analyst to Chief Information Officer, from Airborne Ranger to Battalion Commander. He was formerly the cyber operations lead for the State of Washington, where he co-wrote the state's cyber response plan, the first of its kind. After military retirement, he continued his work as a consultant, creating a graduate curriculum for the University of Washington on cyber resilience and facilitating exercises for local business owners, large defense contractors, and most recently, numerous exercises using the DECIDE® Platform.
Kristen Pedersen
Kristen Pedersen has been promoted to Vice President of Cyber Operations. Kristen previously held the position of an Associate Vice President at NUARI, managing the organization's portfolio of Distributed Environment for Critical Infrastructure Decision-making Exercises (DECIDE®). She oversaw the development and delivery of cybersecurity and physical-threat focused exercises testing incident response protocol and improving the resiliency of various critical infrastructures. Her expertise is in strategic communication, media analysis, crisis and incident response, and complex change management. Kristen is also an adjunct professor in Norwich University's Security Studies and Defense Analysis Bachelor's Degree program as well as a former US Coast Guard Operations Specialist.
Cody Young
Cody Young has been named NUARI's Chief Information Security Officer (CISO). Cody will oversee all facets of NUARI's information security approach to protect employees, users, and assets according to industry, regulatory, and best practice requirements. Cody previously held the position of Cyber Security Architect for NUARI. A native of Mobile, Alabama, Cody began his career in IT after attending Minnesota State University-Moorhead. Cody's background includes work in infrastructure, software development, software security, application management, solutions analyst, digital transformation, IT business processes, and risk management programs.
Congratulations!

Jakon Hays
Jakon is the Senior Marketing and Strategic Communications Specialist for Norwich University Applied Research Institutes (NUARI). He develops and executes digital and social media awareness initiatives promoting NUARI's mission of enabling a resilient society through rapid research, development, and education in cybersecurity, defense technologies, and information warfare.
More posts by Jakon Hays
Related Posts
This past summer, NUARI and Norwich University hosted a one-day Artificial Intelligence (AI) and...
Latest News
This past summer, NUARI and Norwich University hosted a one-day Artificial Intelligence (AI) and...