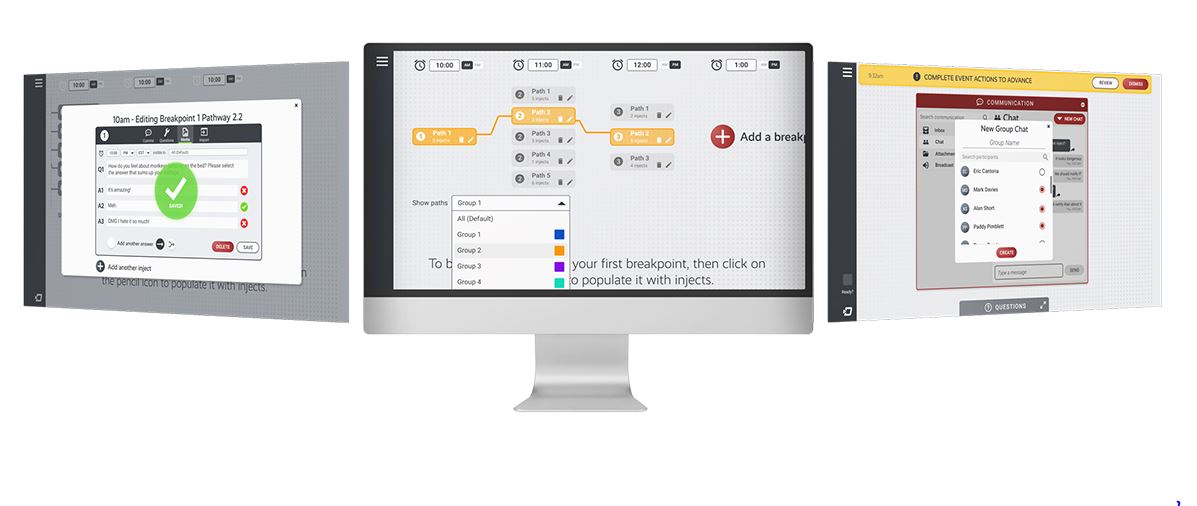 We are kicking off 2023 with some big news from our cyber security exercise team. Over the last few months, NUARI developers and partners have worked with our exercise team to enhance and refine the DECIDE® Platform interface.
We are proud to introduce a new look for the DECIDE® Platform as part of the ongoing evolution of our organization.
First impressions are positive from our exercise team members, who spend the most time inside the Platform designing customized exercises.
"I feel that the vast majority of design tasks have been improved greatly. Overall – a major improvement."
-Filipp Khosh NUARI DECIDE® Exercise Designer
Users that have previously participated in our exercises will notice that the DECIDE® Platform's interface has expanded into a more contemporary look, enhancing player engagement.
The DECIDE® Platform has been transformed by a new, cleaner information architecture that allows NUARI's exercise team to quickly onboard new users by easing platform navigation. Boston UX also designed a user-friendly drag-and-drop interface and came up with additional innovative techniques to enable players to easily access the relevant data at the appropriate moment, which improves the quick decisions needed during an actual crisis. The updated DECIDE® Platform significantly improves upon the previous appearance while maintaining NUARI's recognized branding.
Thanks to these updates, the program will remain viable even as the threat landscape changes.
"I've noticed that clients adapt to the new skin much faster than before. It's been streamlined to position the most important information forward and allows them to focus on the scenario."
-Chris Tucker – NUARI DECIDE® Exercise Designer
NUARI has been a global leader for over a decade in developing cyber war gaming, distributed learning technology, distributed simulation technology, critical infrastructure exercises, and cybersecurity curriculum.
Exercises incorporating the DECIDE® Platform simulate cyber-attacks for critical infrastructure organizations and their partners to stress and test incident response plans and decision-making capabilities, resulting in after-action reports to improve strategic communication, compliance, risk, public relations, and overall resilience. NUARI executes these distributed command and control decision-making exercises with organizations of all sizes, in one geographic location or spread across the country, from just a few players to hundreds of participants in a multi-agency activity.
Additional information about the updates can be found here: https://www.ics.com/success/cybersecurity-training-platform

Jakon Hays
Jakon is the Senior Marketing and Strategic Communications Specialist for Norwich University Applied Research Institutes (NUARI). He develops and executes digital and social media awareness initiatives promoting NUARI's mission of enabling a resilient society through rapid research, development, and education in cybersecurity, defense technologies, and information warfare.
More posts by Jakon Hays
Related Posts
This past summer, NUARI and Norwich University hosted a one-day Artificial Intelligence (AI) and...
Latest News
This past summer, NUARI and Norwich University hosted a one-day Artificial Intelligence (AI) and...