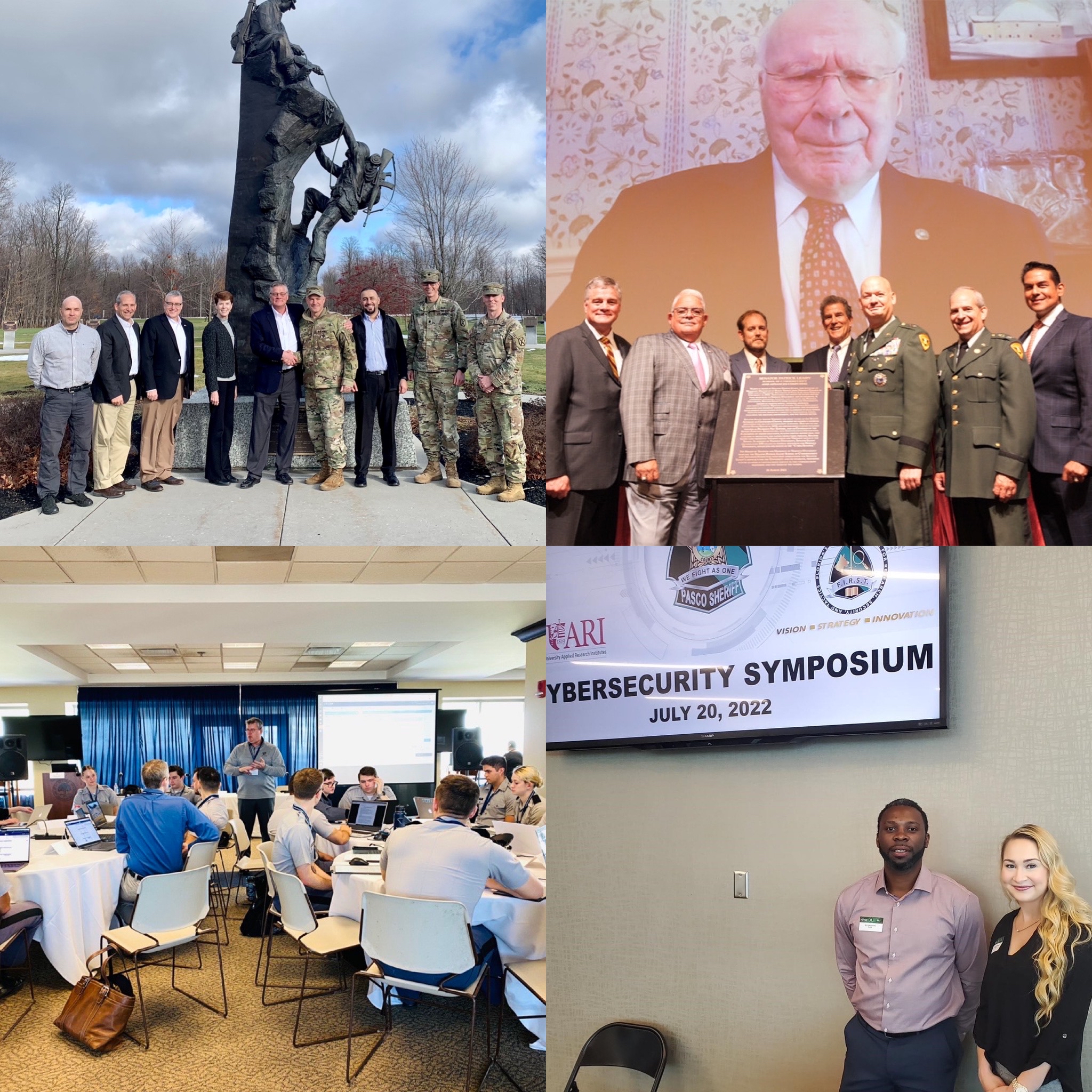 2022 was a busy year at NUARI as efforts to advance and execute our Institutes' priorities continued through our team members' hard work and dedication.
Here's a look at some of the biggest news and events NUARI engaged in over the past year.
We Can't Sit Still - NUARI on the Road
The entire year offered opportunities for the NUARI team to make appearances at various conferences, preparedness exercises, and educational symposiums across the country. From early spring through the end of the calendar year, NUARI team members were on the road.
NUARI had outstanding representation at the Pasco Sheriff's Cybersecurity Symposium in Florida. NUARI President Phil Susmann was on hand to deliver remarks highlighting the current Cyber Threatscape. Phil later sat on a panel specifically addressing cybersecurity in Pasco County. Michael Slack provided a detailed Technical Threat Report, followed by Joe Minicucci, addressing Remediation and Readiness. NUARI CISO Cody Young made an appearance, providing additional information on NUARI's mission and activities, while NUARI Project Coordinator Taylor Beaudet worked with the Pasco team to ensure that symposium events ran smoothly.
In late February, The Citadel military college in Charleston, SC, hosted the third of four events in the Jack Voltaic Conference Series coordinated through the Army Cyber Institute. NUARI representatives Phil Susmann, John Kunelius, Kristen Pedersen, and Tom Muehleisen attended the two-day event sharing research findings, reviewing exercise tools, and attending workshops and discussions focused on strengthening resiliency within our nation's critical infrastructure sectors. In an invitation-only event, NUARI's Director of Exercises, Tom Muehleisen, led Citadel cadets through a simulated cyber-attack utilizing our DECIDE® Platform.
In April, Phil and NUARI Program Manager Jeffrey Cairns participated in a professional development forum at the General Gordon R. Sullivan Conference & Events Center in Arlington, Virginia. The Forum was part of the AUSA Hot Topic Series titled: Army Installation Partnerships for Mission Assurance, with a focused theme of "Executing the Army Installations Strategy." The objective of the Forum was to understand the Army's approach to implementing the Army's Climate Strategy, Installation Strategy, and Energy & Water Strategy and demonstrate how the Army will embrace partners to achieve mission success.
The summer months saw the team back on Norwich's campus for the dedication of the Senator Patrick Leahy School of Cybersecurity and Advanced Computing held during the "U.S. Senator Patrick Leahy Cyber Symposium." Formerly the School of Cybersecurity, Data Science, and Computing, the new name reflects Leahy's longstanding support of cybersecurity education at Norwich University and in Vermont. The symposium was emceed by Phil and brought together U.S. Senator Patrick Leahy, D-Vt.; U.S. Rep. Peter Welch, D-Vt.; Norwich University President Mark Anarumo, Ph.D.; Air Force Lt. Gen. Robert J. Skinner, Director, Defense Information Systems Agency Commander, Joint Force Headquarters - Department of Defense Information Network (DODIN); Commissioner Michael Harrington, Vermont Department of Labor; distinguished experts and special guests for a day-long discussion on the latest innovations in cybersecurity and the importance of cyber education and workforce development in Vermont.
In September, NUARI participated in the 2022 Vermont Emergency Preparedness Conference in Killington, VT highlighting the importance of cyber security for the emergency services sector. Phil discussed commonly exploited controls and practices and best practice strategies to mitigate potential security incidents.
Also, in the late summer, NUARI was proud to partner with the American Public Power Association (APPA) for its annual cybersecurity exercise held in Savannah, Georgia. Joe Minicucci and Filipp Khosh, two of NUARI's Cyber Security Exercise Team members, facilitated a daylong activity and utilized NUARI's DECIDE® Platform for the exercise portion of the event. The cybersecurity exercise allowed public power utilities to create and strengthen cyber incident response plans and practice incident response during a live, scenario-based tabletop exercise. The exercise included roles for multiple business segments beyond security professionals — so that participating utilities could gain experience exercising a complete cyber-incident response plan. It was an excellent experience for all those in attendance, and we are happy to work with APPA, an organization doing its part in securing the U.S. electrical grid.
We were still on the (virtual) road as the year was winding down—this time in Japan. Phil moderated a virtual panel of international experts to discuss "Critical Infrastructure Protection Activities and Military Support" for the CYDEF 2022 Cyber Defense Conference in Tokyo, Japan. CYDEF 2022, the largest cyber defense conference in Japan, featured cyber defense experts from around the world, with the cooperation of research institutions such as the NATO Cyber Defense Cooperation Center and the U.S. Army Cyber Institute.
Finally, Phil joined a delegation from Norwich University in early December for a visit to Fort Drum, NY, for discussions with the G39 and the Fort Drum Network Enterprise Center (NEC) to strengthen Norwich University's partnership and further collaborate in research, student internships, and career placement.
A Gathering of the Minds
During our annual meeting at NUARI's headquarters in Northfield, VT, this past summer, NUARI team members participated in an organization-wide incident response exercise utilizing the DECIDE® Platform. NUARI decided to focus on designing and executing an activity to bring together several NUARI departments to exercise a coordinated response in the event of a significant physical and cyber incident. During the design phase of the exercise, NUARI stayed focused on exercising a "whole of organization" approach that included multiple departments across NUARI's enterprise.
Words of Wisdom - and a Warning
Phil was featured in Norwich's Alumni Magazine, the Norwich Record, as an expert offering his insights on the cyber landscape shaping our world. Phil spoke of the possibility of a " Cyber Pearl Harbor," Intellectual Property theft being conducted by China, and the need to recognize that the United States needs to invest in the education and training of the next generation of cyber warriors.
Educating Tomorrow's Cyber Leadership – Today.
As the country experiences a shortage of qualified cybersecurity personnel, Norwich University and NUARI are leading the effort to offer an experiential educational experience to produce America's next generation of cyber leaders. As the 2022-2023 Academic year opened, NUARI's Security Situation Center (SSC) welcomed seven Norwich University students into the SSC's internship program. NUARI operates the SSC as a live laboratory to inspire and educate tomorrow's cyber workforce for service, protecting our public and private networks from global threats.
Continuing to take the lead in education, it was announced that Norwich would receive $4 million in federal funding to create an artificial intelligence (AI), machine learning, and quantum computing academic and experiential learning center. The center will develop education and training programs directed at undergraduates and engage mid-career professionals with up-skilling and continuing education. NUARI is proud to partner with Norwich in developing this center and the educational opportunities it will offer its students. The importance of this center was laid out by Phil during an appearance on Vermont's WCAX's "You Can Quote Me."
Driving Research and Education
"A busy year" would be an understatement when looking back at activities involving our cyber security exercise team. Events in the world of cyber continued to emerge at unprecedented levels highlighting the importance of NUARI's mission and the role that our cyber security exercises can play in securing our nation's critical infrastructure. Using the DECIDE® Platform, NUARI and its partners executed distributed decision-making events with organizations of all sizes, with participants worldwide. The exercises tested incident response plans and decision-making capabilities, resulting in after-action reports aimed at improving strategic communication, compliance, risk, public relations, and overall resilience within the participating organizations.
During 2022, the cyber security exercise team completed 41 exercises which included 15 exercises with organizations operating in the energy sector and 13 organizations operating in the transportation sector. These exercises strengthened situational awareness, strategic communications capabilities, and digital response playbooks to prevail against cyber threats we continue to see affecting our country.
As we approached the summer of '22, it was announced that Norwich University, in partnership with Spotlight Labs, was awarded a three-year $371,000 Small Business Innovation Research (SBIR) grant from the Defense Advanced Research Projects Agency (DARPA). Work will continue on the Impact of Cockpit Electro-Magnetics on Aircrew Neurology (ICEMAN) project. A SBIR grant from DARPA, through NUARI and in partnership with Spotlight Labs, will fund the project.
Summer didn't slow us down as NUARI and Norwich hosted a group of Information Warfare Interns selected to assist our interdisciplinary team of researchers studying the weaponization of information in real-time. Our group of student interns was funded by the Department of Defense Cyber Institute at Norwich University, and this specific line of effort is one of many examples of interdisciplinary experiences the Cyber Institute supports at Norwich. Throughout their internship, the student interns gained hands-on experience, working with experts in the field of IA/IW, and received training in the study of propaganda, cybersecurity, disinformation, and information advantage. The NUARI interns assisted our researchers by labeling media data for a supervised machine learning effort, assisted in developing multidisciplinary frameworks to detect, measure, and predict malign influence, and identified strategies and tactics of actors in the information environment.
It was an outstanding 2022, and we're looking forward to an even more productive 2023!

Jakon Hays
Jakon is the Senior Marketing and Strategic Communications Specialist for Norwich University Applied Research Institutes (NUARI). He develops and executes digital and social media awareness initiatives promoting NUARI's mission of enabling a resilient society through rapid research, development, and education in cybersecurity, defense technologies, and information warfare.
More posts by Jakon Hays
Related Posts
We want to congratulate Jack Skoda, Lt. Col., Vermont Air National Guard (VTANG), and NUARI's...
Latest News
We want to congratulate Jack Skoda, Lt. Col., Vermont Air National Guard (VTANG), and NUARI's...